Ferrari has taken the wraps off the most powerful, most advanced and fastest-accelerating road car it has ever produced: the SF90 Stradale. The new flagship Ferrari is also the first series production plug-in hybrid vehicle from the brand. It's the second of five new models to be presented this year – an "unprecedented" product rollout, according to the Italian firm. The heart of the car is Ferrari's award-winning 'F154' twin-turbocharged V8, bored out from the 3,902cc of the 488 Pista to 3,990cc.

The resulting output of the engine alone is 780hp, with 800Nm of torque at 6,000rpm.
The new engine design – in which the turbocharger is mounted lower and the flywheel is smaller – results in a lower centre of gravity. The exhaust system also makes use of the super-alloy Inconel, instead of steel, to save weight. Ferrari claims a "fuller, richer" sound for the exhaust.

Complementing the V8 is a trio of electric motors – two mounted at the front and one mounted at the rear between the engine and gearbox that in combination provide all-wheel drive. All three generate a total of 220hp to make the 1,000hp total.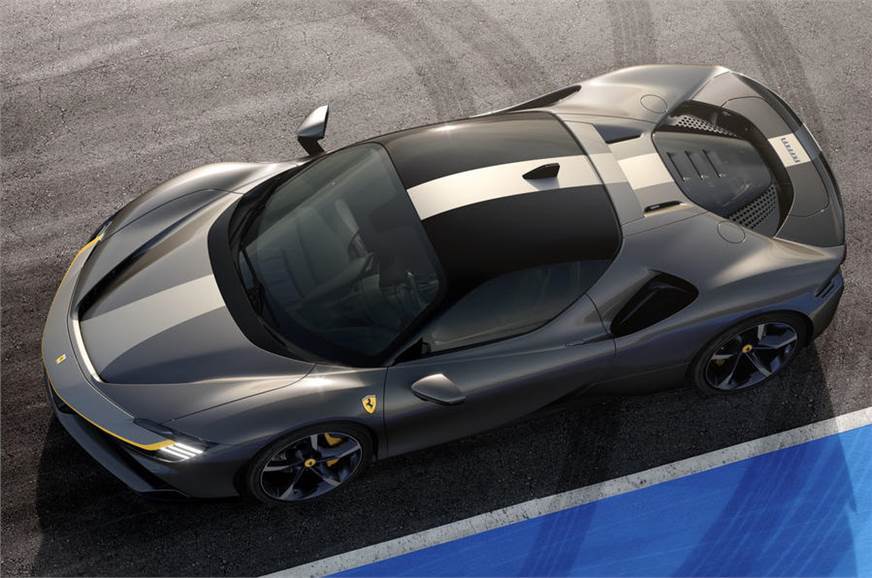 They are powered by a relatively small (7.9kWh) lithium-ion battery pack that makes the SF90 Stradale capable of 25.7km of electric-only running at speeds of up to 135kph. The battery can be charged either by plugging it in (no charging time has been revealed) or using the engine as a generator. All of this results a 0-100kph time of 2.5sec, which is a record for a road-going Ferrari. Furthermore, 0-200kph takes 6.7sec, while the top speed (claimed not to be the main performance focus) is 342kph. Ferrari also says the new car pulls out a 64-metre lead from the LaFerrari in one lap around its Fiorano test track.
A new power mode selector, dubbed eManettino, provides four driving modes. eDrive keeps the engine switched off for as long as the battery lasts, while Hybrid is the default setting, balancing both power sources. Performance and Qualify add increasing levels of go-faster capability. The car is a series production model. Sources indicate that of the 2,000 customers invited to see the car, "most have already ordered one. Anyone who orders now will have a long wait." The first deliveries are tipped to begin in Italy in the first quarter of 2020.